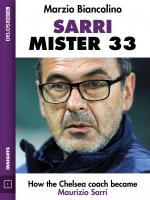 Genere

Lunghezza

Essay, 48 pagine
Collana

Delos Insights n. 1

ISBN ebook

9788825407013

Prezzo ebook

€ 1,99

Data di uscita

2 ottobre 2018
Traduzione di

Morgan Cox
From bank manager, working in some of Europe's most prestigious financial centres, to coach of SSC Napoli, in pursuit of Maradona's glory days; a veritable springboard to the amazing Premier League arena at the helm of Chelsea Football Club. That, in a nutshell, is Maurizio Sarri's unique career path. This is a multi-faceted look at a life full of humanity, fun facts and surprises.
Scarica pacchetto stampa
Scarica copia recensione
"At the time I chose a job which was the only one I would have done for free. I have been a player and coach for absolutely ages. I didn't just stumble into this profession. Some people still call me 'the former office worker', as if it were some sort of crime to have had another type of job."
This is what Maurizio Sarri has to say about himself, looking back on a unique career path that took him from some of the most prestigious financial centres in Europe to the Chelsea FC bench, following a glorious 3 years at SSC Napoli. It is quite unusual to put in your first appearance in 'Serie A' at the ripe old age of 55, and within just a year find yourself on the SSC Napoli bench without a footballing career behind you like that of Guardiola, Mancini, Ancelotti or Zidane, but more akin to Mourinho or Sacchi, a comparision which incidentally does not displease Sarri. Add that to finding yourself having to recreate a dream which is almost an imperative: to revive the times of Diego Armando Maradona's epic heyday. All of this without even remotely imagining that, after a glorious three years under mount Vesuvius, the future would have taken him not only to the UK , but to lead Chelsea F.C. no less.
Marzio Biancolino is an author and journalist who has enjoyed success writing for a number of major Italian newspapers, among which "La Repubblica" – ("Satyricon") and "La Gazzetta dello Sport". He also had his own daily column in the latter during the 1990 Italian World Cup.
By the same author writing as Marco Stretto: "Siamo tutti tifosi della Juventus" ("We are all Juventus fans"); "Siamo tutti tifosi dell'Inter" ("We are all Inter fans"); "Siamo tutti tifosi del Milan" ("We are all Milan fans"); "Siamo tutti tifosi del Napoli" ("We are all Napoli fans"); "Siamo tutti tifosi della Roma" ("We are all Roma fans").